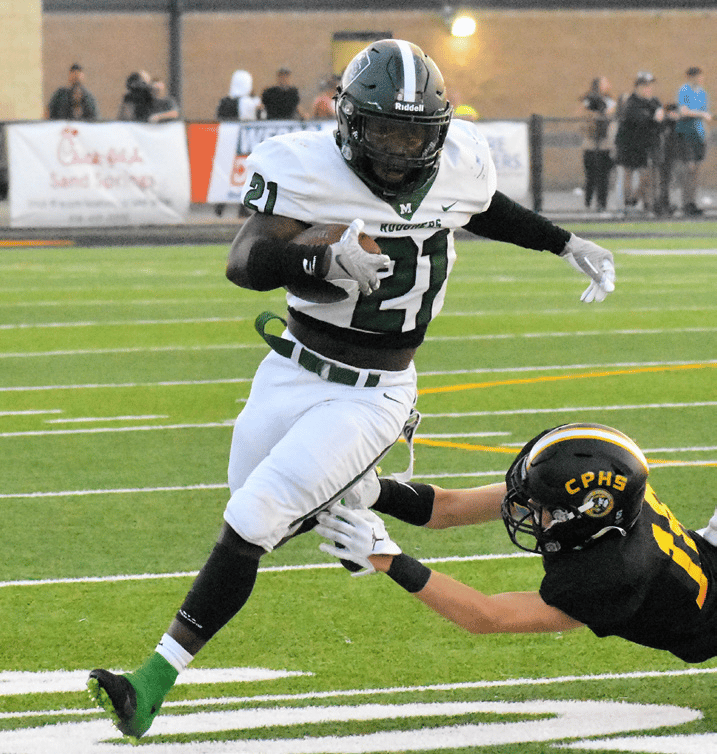 If you ask Brandon Tolbert what makes him the man he is today, the Muskogee senior won't shy away with his answer.
"I'm that guy that comes from the farm where you learn from the school of hard knocks," replied Tolbert, a two-way standout on the football field for the Roughers. "Growing up I tried to learn how to do things right the first time. There's a hard way and then there's the right way."
Standing only 5-8 while tipping the scales at 208 pounds, Tolbert makes the most of his strength and speed. Defensively while playing linebacker, he welcomes the challenge of the opponent.
"I love playing defense because I'm making the contact not taking it. It's one-on-one and may the best man win," said the Roughers leading tackler through the first four games with 53 stops altogether and 29 solos including six for minus yardage.
"You know the saying is it's not the size of the dog in the fight…it's the size of the fight in the dog. I've got that mindset. So what if you're bigger than me, I'm still going to leave my mark."
Offensively, Tolbert, who displays a physical type running style matched with balance and the speed to take it the distance, also uses his sure hands in passing routes.
"My growing up on the farm, grabbing the square bales of hay and tossing them on the truck has strengthened my grip which helps me whether it's a run or pass play," Tolbert said while squeezing his fist and a big smile.
"Whenever I get the ball, my first thought is how can I get to the end zone."
With his family having a background serving in the Army, Tolbert is a classroom student of history. When it comes to his favorite meal,
there's only one thing that Tolbert wants for the pregame and postgame menu.
"I love burgers, that's what I want!"
Using his air pods to get his hype while chilling to R&B music and the rapper Rod Wave, Tolbert mentally checks into the game recalling the influence of a family superhero.
"My PaPaw (Philemon Thomas) was the man that helped me become who I am today. He taught me about life values and if you really want something, you have to work hard to get it. Do whatever it takes and never quit."
With dreams of continuing to play football after high school hanging in the back of his mind, Brandon Tolbert wants to make his final season wearing the number-21 Rougher football uniform a memorable one, writing his own chapter of history at Rougher Village, the new home of Muskogee football.
"As a senior, it's awesome to open the gates to the new stadium with a win. What I really want is to give our town, my school and my family a championship. We have to leave our mark."